Welcome to La Lanterna Cafe & Grill!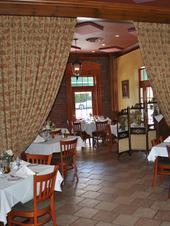 Experience the taste of Tuscany in Ridgewood!
Enjoy fine regional Italian cuisine in a warm, inviting atmosphere. La Lanterna takes great pride in using the finest ingredients. The meats are top quality prime cut, and the fresh seafood is bought locally and delivered daily.
Chef Apostolos' (Paul's) imagination highlights the menu with creations like Grouper Fillet sauteed with fresh tomatoes, wine, herbs, and Manila clams. With special menus updated daily, guests can always look forward to something new.
Private Parties Only from 12-4pm Saturday & Sunday
***25 Guests or more***
La Lanterna Cafe & Grill is now accepting reservations for Christmas Eve and New Year's Eve.
Call 201-444-5520. Click here for our Holiday Menu.